Gunny G: BLOGGIN' BAD!~MAKE AMERICA "AMERICAN"! AGAIN!!!!! (FUBO!) BRING BACK AMERICA's HAT! (THAT BAD ASS DEPLORABLE FEDORA!) ~ $H!T-CAN THE STAIN, STIGMA, STENCH AND SHAME OF "THE PRINCE OF FOOLS"~ AND: "FINALLY," ~ BRING THE "POF" TO JUSTICE!, EXPOSE! AINOs (AMERICANS IN NAME ONLY), AND FLUSH THE SWAMP~POWER-FLUSH! "TWICE!"-("FLOATERS" Y'KNOW!) -POTUS .45 TRUMP COCKED and LOCKED!.....-ONE RIGHTEOUS MAN--IF WE CAN KEEP HIM! ~ Illegitimi non carborundum..!
The nation state marshals resources for war better than non-state entities through economies of scale and the ability to command and direct central planning efforts although it suffers a concomitant lack of agility and innovation due to the neces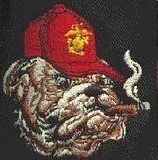 sity of creating large bureaucracies to execute the formation of large armies and still Clausewitz' Trinitarian notions are certainly relevant today. Subject to misinterpretation by non-German speakers, his complex theory is just so because the notions are…complex.
View original post 577 more words